The first time I set foot on Mykonos was in late September 1977. Fresh out of high school, a friend and I took our sleeping bags, a change of clothes and a few hundred drachmas each, and after about ten hours on the boat landed on the beautiful Greek island.
We took the bus from Chora to Paradise Beach, where we went camping, each of us paying twelve drachmas per day to set our sleeping bags down and use the facilities, which at the time were primitive.
In the camping restaurant, a plate of gemista, or peppers and tomatoes stuffed with rice and herbs, cost five whole drachmas.
I should note here that in 1977, one dollar was equivalent to 37 drachmas.
When we went to party in Chora, a beer cost 50 drachmas and drinks were an unbelievable — for us — 100 drachmas. Yet we had a great time, because at 17 it's easy to have a great time on a Greek island in the summer.
When another friend of ours arrived, we somehow put together a whopping 110 drachmas between us and splurged on a three-bed room in Chora.
Once a traditional Greek island, Mykonos has become a luxurious, expensive travel spot
Cut to forty years later, and Mykonos is a completely different island, as Greece is a completely different country.
Today, Mykonos is advertised as one of the most cosmopolitan islands in the world and it attracts the rich and famous.
And along with the rich and famous come hundreds of thousands of others who want to walk the same sidewalks with them.
Or alternatively they might want to simply enjoy the beauties of the island, which truly are beyond compare.
Because stories of excess abound, many would think twice before visiting Mykonos, believing that they would have to mortgage their house to enjoy a proper holiday on the cosmopolitan island.
Only recently an American tourist complained that he paid $600 for six plates of calamari and another $150 for six beers at a Mykonos beach restaurant.
Indeed, there are places on Mykonos which do indeed charge this much. There are villas which one can rent for $5,000 a day, as well as small rooms in pensions which cost $300 per night.
Yet if one wants to have a good time on Mykonos without being involved in a show of wealth, it is still possible. You can actually go to Mykonos and enjoy what the island has to offer for a mere 50-60 euros a day.
How to enjoy Mykonos on just 60 euros a day
Just don't even think of going there in August. It will be chock full of visitors, and prices for accommodation are sky high.
But the months of June, July, September, and even October are perfect for enjoying the island's famous beaches without going cheek-to-jowl with other tourists.
I personally would recommend to start your Mykonos adventure by taking the slow boat to the island.
The trip is about four hours long from Piraeus, but you can sunbathe at your leisure on the deck all the way.
I believe this would only cost about 25 euros.
If I were to choose the spot at the same camping area I stayed at 40 years ago, today it would cost me 33-35 euros per night.
Not bad at all if you are young or if you simply like to camp out and stay on one of the best beaches on the entire island.
Or you can try to book a room through Airbnb. Just do it as far in advance as possible. If you travel with friends, an Airbnb apartment would be a good deal because the more the cheaper, and the merrier.
Additionally of course, you can cook in the apartment and avoid eating out, which can be costly.
If you don't enjoy camping, choose your accommodation as close to Chora (downtown) as possible. T
his is where the nightlife, the eateries and the supermarkets are located. Don't worry about being able to walk to the beach because the island has public buses which can take you to the most popular ones.
The bus fare was only 1.5 euros three years ago.
Eat, drink, and party on the Greek island on a budget
Go to a downtown supermarket and buy cheese and cold cuts, and some Greek yogurt and fruit.
Then go to a bakery and buy bread to make sandwiches. You can also buy cheese pies, spinach pies and so on.
This way, you can have inexpensive, delicious, and fresh breakfasts and lunches.
As far as dinner is concerned, you can have gyros or souvlaki in pitas with french fries at one of the several gyro places in Chora. It will be cheap, nutritious — and yummy.
If you want to go to a club or bar at night, you can drink a beer or two which you have bought beforehand at the supermarket.
Yes, that is doable there. Alternatively, you can search and find an inexpensive bar or club where you can order a beer or a mixed drink and stay as long as you want.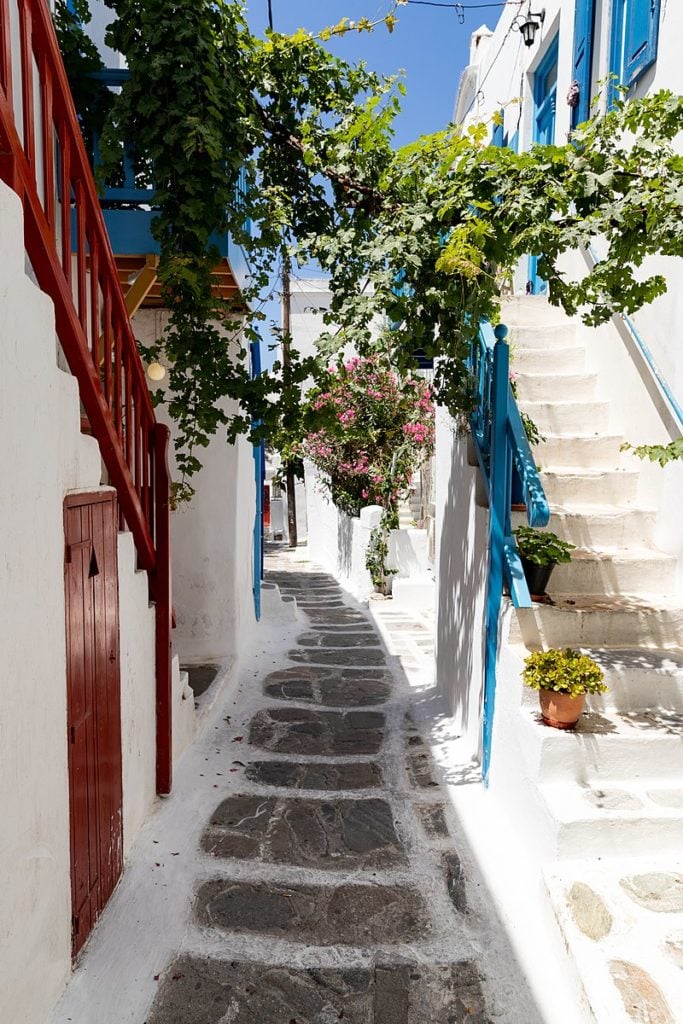 Waiters won't bother you at these types of establishments if they see you nursing a drink. You can order a beer for five euros and a mixed drink for seven to ten euros at several nightspots.
When we were younger and went to Mykonos on a budget, we had a clever trick to go to a club and dance without ordering a drink.
It was simple: We would go to a club that had no cover charge and walk straight to the dancefloor. We would dance until we were tired and then leave. Then we would repeat that all over again at another club.
I'm not suggesting that you do that, but I'm sure some of you would find it intriguing and challenging.
Beaches in Mykonos among the best in Greece
The beaches of Mykonos are among the best in Greece, so it is imperative to spend as much time there as possible.
Its iconic crystal-clear waters and the smooth, golden sand of the Cyclades are the highlights of the island. Super Paradise, Paradise, Psarou, Elia and Kalafatis Beaches are the most popular. Just don't forget your sunblock.
Avoid renting a sunbed and umbrella because you can spend your entire budget right there.
You can bring your own beach umbrella from a market and set it up on a spot which is free, away from the organized, commercial areas of the beach.
Also, avoid buying food or drink at any beach. It will throw you off your budget before you know it.
On Mykonos you truly can party all day. Beach parties begin late in the afternoon and continue through the night. If you stay at a camping area, you can join the party and frolic all you want.
If you stay downtown, however, you are limited by the bus routes. But again, one beer or drink will allow you to party as long as your heart desires.
If you are a party animal and stay downtown, you can dance until the next morning and then catch the first bus to Chora.
So, yes, you can visit Mykonos on 50-60 euros a day and still have lots of fun and an extremely memorable vacation.
Just get into vacation mode and bring that positive and flexible attitude with you. You don't have to be a tycoon to explore one of the most beautiful Greek islands — and have a great time doing it.
See all the latest news from Greece and the world at Greekreporter.com. Contact our newsroom to report an update or send your story, photos and videos. Follow GR on Google News and subscribe here to our daily email!