Greece, as everyone knows, is a country steeped in history and enveloped in the warm embrace of the Mediterranean Sea. However, this beautiful country has even more to offer.
It is undeniably home to some of the best food to be found anywhere in the entire world.
Using fresh ingredients, prepared with with age-old recipes, Greek cuisine is full of delightful surprises that your taste buds will thank you for.
Keep reading to find out what ten delicacies you absolutely must try during your visit to Greece; and don't forget to have a glass of ouzo along with some of the traditional Greek dishes you will sample.
Bougatsa: the beloved sweet pastry of northern Greece

Bougatsa is a delectable Greek breakfast pastry made with either semolina, cheese, or custard between layers of phyllo, the extremely thin dough used in pastries.
You can also get a sprinkle of powdered sugar and cinnamon on top of your bougatsa if you desire.
Be careful when ordering this delicious dish in some parts of northern Greece, especially Thessaloniki.
There, the word bougatsa can also refer to savory pies stuffed with meat, so you should specify that you want a bougatsa with cream for the sweet version.
A surprising Greek food combination: Feta with honey
You may question the idea of eating feta cheese with honey, but honestly, this delicacy presents too good of an opportunity to miss.
The feta is wrapped in layers of phyllo before baking, and then Greek honey is drizzled over it, with some sesame seeds sprinkled on top. Heaven in a pastry.
Fried cheese balls: the perfect Greek food for cheese lovers
If you are a cheese lover (and who isn't?), then Tirokroketes, or fried cheese balls, are definitely the perfect Greek food for you.
These delightful little morsels are made from a variety of cheeses, including feta, graviera, and gouda, which are combined with bread crumbs before being fried.
The iconic Souvlaki
This dish might seem overrated to some, but truly it is all about the place you buy it from.
Each restaurant has its unique recipe, and they definitely do not all taste the same.
Souvlaki, which refers to the meat stick itself or to the entire "gyro," can be served either plated on a dish or wrapped in a pita, with any type of meat you desire, along with tomatoes, french fries, onions, and its distinctive tzatziki sauce.
Greek seafood is the best in the world
While you may well have tasted seafood in different countries before, you will come to realize very quickly that Greek seafood is simply out of this world.
Be sure to try all the jumbo shrimp, squid, oyster, octopus, and barbouni (striped red mullet) fish dishes that you can while here.
Soutzoukakia: Greek food for the soul
Soutzoukakia are sausages made from ground meat which are cooked in a spicy red sauce. The sausages are served with white rice on the side.
This dish, which is perfect for winter, is very filling, so pace yourself accordingly.
It was brought to Greece by refugees from Asia Minor, who tend to have a spicier, more heavy cuisine. They're also called "Smyrna meatballs" due to their history.
Spetsofai: a unique Greek plate from Thessaly
A traditional Greek dish consisting of sausage, onion, peppers, tomatoes, and wine, this delicacy originates from Thessaly, in Pelion, a region in central Greece.
Moussaka among most popular of all Greek foods
A casserole made of fried eggplant, spiced meat and potatoes, layered with bechamel sauce, this is perhaps the ultimate traditional Greek dish.
After trying this delicacy only once, you will surely become one of its many devotees.
Pastitsio, another classic Greek food
Pastitsio is another staple of Greek cuisine, a dish consisting of baked pasta, ground beef, Bechamel sauce and tomato sauce, with gooey, melted cheese on top.
Tomatokeftedes (Tomato Fritters)
Tomatokeftedes, or fried tomato balls, are a traditional appetizer on the islands of Santorini and Syros.
Made with well-drained, diced tomatoes, these fritters have delicious rough edges, with bits of mint and onion providing a unique combination of flavors.
Greek foods that are perfect for vegetarians
Vegetarians may worry that Greek food is primarily suited toward meat eaters, but that's not the case! In fact, many of the most delicious Greek dishes are entirely meat-free, and many are even vegan.
Briam is packed full of vegetables
An oven-roasted, delectable all-vegetable dish, this consists of pieces of zucchini, potato, and eggplant mixed with tomato sauce and olive oil, topped with oregano.
Leafy boiled greens, or horta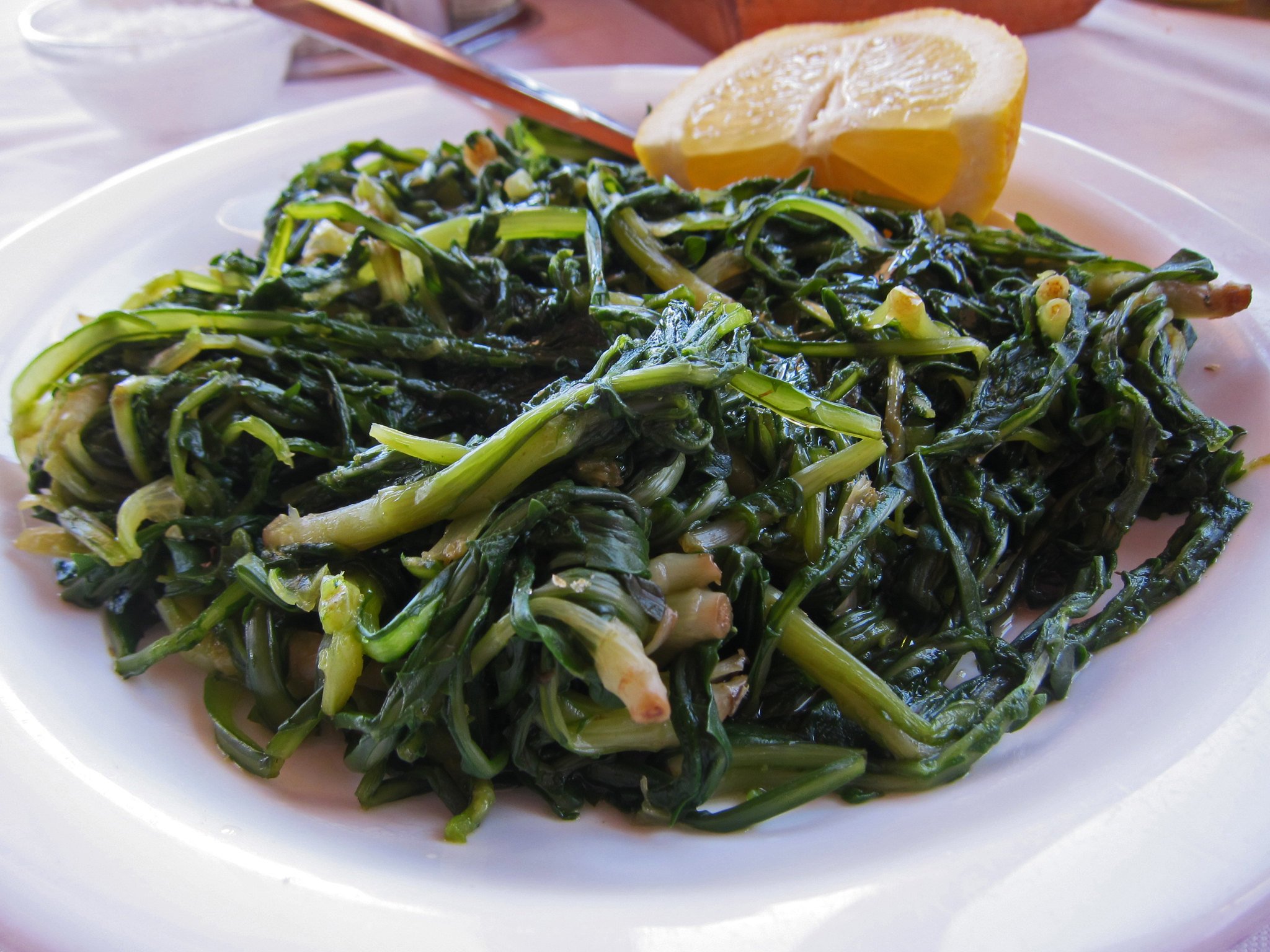 The quintessential vegetable dish in Greece, Horta, consists of lightly-boiled leafy greens which can include dandelion, vleeta (amaranth), mustard and chicory, seasoned and served with olive oil and lemon.
Dolmades, or Greek stuffed grape leaves
A famous food served in every Greek restaurant worldwide, dolmades are delicious grapevine leaves which are stuffed with lemon-flavored rice, spices, and fresh herbs and then rolled up.
Gigantes are a delicious bean dish
A healthy and enjoyable dish to eat, gigantes are broad beans baked in a rich tomato sauce.
They are sometimes topped with crumbled feta cheese, but even without any topping at all, they are not to be missed at the Greek table.
And Something Extra
You simply must try the following two drinks while on any adventure in Greece, or your vacation will be incomplete.
Frappe
The quintessential summer coffee drink in Greece, frappes are served cold and topped with the natural foam that occurs when the drink is made.
In order to create the delicious drink, you must whip instant coffee with water. You can add as much milk or sugar as you like to your frappe.
This drink is perfect for those hot summer afternoons in Greece.
Retsina
A white wine with pine resin added to it, Retsina is an ancient specialty originating from Thessaloniki, in northern Greece.
You can still purchase a large bottle of Retsina for only five euros at Greek supermarkets or kiosks. Don't miss the experience of sampling this unique wine during your Greek adventure.
See all the latest news from Greece and the world at Greekreporter.com. Contact our newsroom to report an update or send your story, photos and videos. Follow GR on Google News and subscribe here to our daily email!