AHEPA, the biggest Greek-American organization, will honor banker Nancy Papaioannou for her commitment to the community.
AHEPA's Chapter 326 announced that Papaioannou will receive the President's Award for "Dedication and Commitment to the Community" during its 85th Anniversary Dinner Gala to be held on December 1, at Leonard's Palazzo, Great Neck, N.Y.
Along with Papaioannou, AHEPA will also honor Philip N. Christopher, who will receive the Periclean Award for civil service and leadership and Stephen Cherpelis who will receive the Estia-Pindus Legacy Award for years of philanthropy.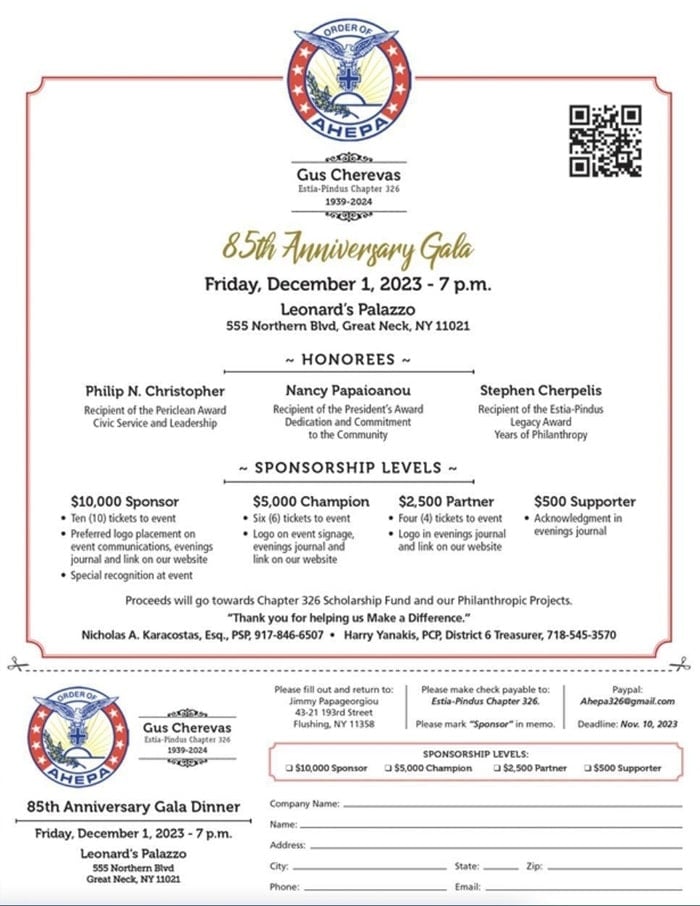 Nancy Papaioannou's career honored by AHEPA
Nancy Papaioannou a leading community banker in New York, recently joined Alma Bank as Senior Advisor.
She joined Alma Bank with over 40 years of banking experience in the United States and Greece, including more than eight years as the first Greek-American woman President of Atlantic Bank. She is considered a leader for women in banking and continues to mentor and inspire young women pursuing various career paths.
She is a widely respected community bank leader who, most recently, served as President of The Atlantic Bank Division of New York Community Bank.
Giving back to communities has been a cornerstone of Papaioannou's career. She devotes her time and energy to many philanthropic and social endeavors, with a focus on amplifying Greek culture and heritage while serving and supporting Greek-American and Cypriot-American businesses.
She is a past President and Chairwoman of the Hellenic American Chamber of Commerce and currently serves as Chairwoman of its Advisory Board.
Papaioannou is a Director of Mount Sinai Queens Hospital and the National Hellenic Society. She is an active member of the Archbishop Iakovos Leadership 100 Fund, the Archdiocesan Cathedral Philoptochos Society and involved with other philanthropic organizations that are committed to making a difference in local New York communities as well as others around the world.
In recognition of her dedication and service, Papaioannou has been named one of the "Greek Women who Make a Difference" in 2021 by Greek Reporter, "Distinguished Person of the Year 2017" by the Hellenic News of America, "Greek American Woman of the Year 2016" by the Association of Greek American Professional Women (AGAPW), and "Distinguished Hellene 2015" by the Hellenic Medical Society of New York.
AHEPA is the oldest grassroots association of Greek-Americans
Founded in 1922 in Atlanta, Georgia, on the principles that undergirded its fight for civil rights and against discrimination, bigotry, and hatred felt at the hands of the Ku Klux Klan, AHEPA is the largest and oldest grassroots association of American citizens of Greek heritage and Philhellenes with more than 400 chapters across the United States, Canada, and Europe.
AHEPA focuses on promoting awareness of Hellenic issues, supporting its fellow members, and sponsoring charitable causes at every opportunity.
See all the latest news from Greece and the world at Greekreporter.com. Contact our newsroom to report an update or send your story, photos and videos. Follow GR on Google News and subscribe here to our daily email!