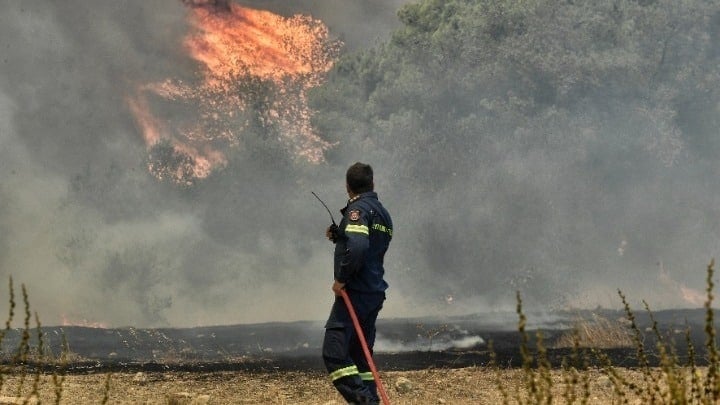 The recent fires on the island of Rhodes have burned 13,500 hectares of forest, based on calculations carried out by the University of Athens, said Professor of Dynamic Tectonics, Applied Geology and Natural Disaster Management Efthymios Lekkas on Tuesday.
Lekkas, who is also head of Greece's Earthquake Planning and Protection Organisation, said immediate and careful action was now needed to protect the burnt areas from other environmental repercussions and flooding, as well as prevent their future desertification.
He said that, based on experience, the forest should start to recover in about five years.
In statements after visiting the fire-afflicted areas with the presidency of the Central Union of Municipalities of Greece, he said:
"The region destroyed was extensive, a region that we have calculated at Athens University to be 13,500 hectares of 'clean' forest that was burnt.
"It is, therefore, a very big disaster for Rhodes in a crucial region that is close to South Rhodes, where forests are absent and we are dealing with phenomena of desertification. The great concern is for this desertification to not advance to the north – even though I believe that the forest is capable of reviving on its own, with our help, of course, wherever necessary."
It might take years for Rhodes to become green after the fires
Apart from the forest, he added, it was important to examine the environmental repercussions to the flora and fauna, the air, soil and subsoil, as well as the subterranean and surface waters.
"A series of actions must be taken in order to avoid the repercussions from all these phenomena, which won't be long in coming…the burnt areas are particularly vulnerable to both landslides and erosion and to desertification and flooding.
"Therefore, we must move quickly to be able to avoid these 'companion' disasters that follow a forest fire and all this even though we must move slowly with the forest, in order to see how it is recovering and then assist.
"To this, we must take short-term action so as not to suffer the repercussions of other disastrous phenomena. This is a great concern and local authorities can make a big contribution to this," he said.
He warned that it might take years for the island to become green once more, with past experience showing that the vegetation can begin to recover in five years with careful management. Otherwise, he noted, it will suffer "desertification" and become a degraded habitat unable to sustain animals and plants unaided.
Lekkas said that the fire on Rhodes came just short of being classed a "mega-fire" like those seen in Evia and Attica but confirmed that the climate crisis was present in Greece, bringing a disruption of natural phenomena that was originally forecast for 2040 and 2050 much sooner.
Related: Satellite Image Shows Wildfire Devastation on Rhodes
See all the latest news from Greece and the world at Greekreporter.com. Contact our newsroom to report an update or send your story, photos and videos. Follow GR on Google News and subscribe here to our daily email!