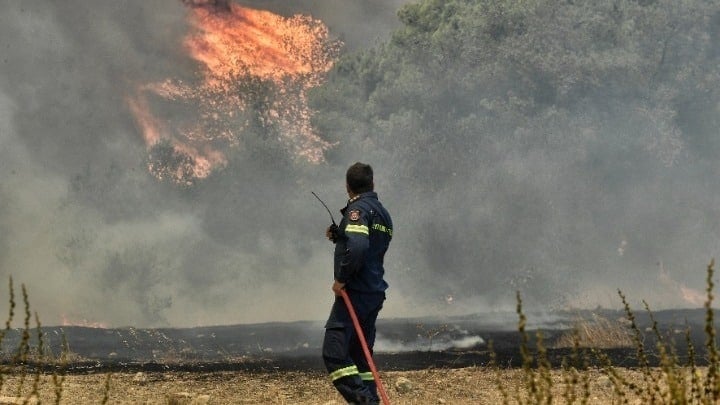 As the authorities and first responders continue to battle devastating wildfires in parts of Greece, there has been growing speculation that arson is to blame for at least some of the blazes. The mayor of Corfu is among those who suspect arsonists have played a role in setting the fires.
Several wildfires have burnt on the islands of Corfu, Rhodes, and Evia, as a third heatwave is moving in with temperatures forecast to climb to 44°C (111.2°F) on Wednesday in several parts of the country.
The wildfires in Greece have proven deadly. On Tuesday the captain and co-pilot of a firefighting airplane were both killed when their aircraft crashed on the island of Evia while it was trying to put out a blaze.
Mayor of Corfu suspects arson to blame for wildfires in Greece
On Monday, Yorgos Mahimaris, the Mayor of Corfu, asserted that the fires that led to widespread evacuations were initiated by an arsonist.
This determination was reached by Mr. Mahimaris following his personal visit to three specific locations on Mount Pantokratoras, where the fires originated.
Theofanis Skembris, deputy mayor of North Corfu, echoed this perspective, supporting the claim that four fires were "started simultaneously."
Speaking to the BBC, Mr. Skembris commented "We have to wait for the investigation, but their first unofficial assumption is that it was arson – fires can't start simultaneously in four different places."
"The situation on the island is better now. Most of the fires are under control. There are firefighting airplanes helping. I believe that everything will be over soon," he added.
Chariton Koutscouris, Corfu's deputy mayor for tourism and construction, likewise echoed sentiments that the wildfires had been caused by arsonists who derive "pleasure out of this with the pain of the other people".
He added that the authorities had a "suspicion" they would begin over the weekend after being warned on Friday by a fire department chief.
Similar suspicions on Rhodes
Similar suspicions have been raised about the wildfires raging across Greece on the island of Rhodes.
Vassilis Vathrakogiannis, a spokesperson from the Rhodes Fire Department said that "Fires are set by human hands," during a discussion with local media outlets.
"Whether it is due to negligence or fraud will be seen (but) people have been summoned for statements and others will be summoned," he continued.
"As soon as we have complete information – because the investigation is in full swing – we will make announcements."
See all the latest news from Greece and the world at Greekreporter.com. Contact our newsroom to report an update or send your story, photos and videos. Follow GR on Google News and subscribe here to our daily email!