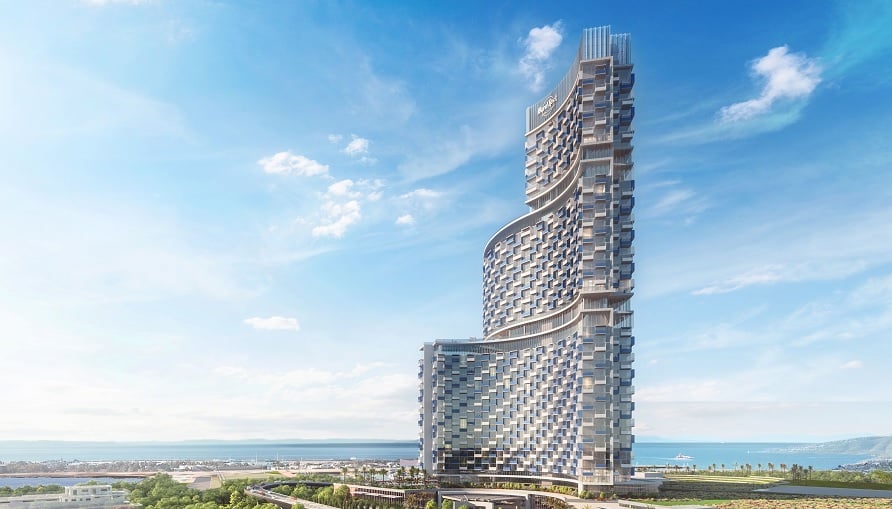 Hard Rock International and GEK TERNA Group announced their partnership for the construction and operation of an integrated resort and casino at Hellinikon, the former Athens airport, on Wednesday.
Hard Rock Hotel & Casino Athens, which is set to open in 2026, will be a unique destination in Europe, combining a 5-Star luxury hotel, a world class gaming floor, a premier meeting and convention space, a state-of-the-art entertainment venue, internationally renowned food and beverage, a luxurious Rock® Spa and Pool Complex, and a high-end retail promenade.
Hard Rock Hotel & Casino Athens will be an international destination, offering its visitors an exciting mix of entertainment, food and beverage, and accommodations, embracing the Mediterranean climate and providing special outdoor spaces, Hard Rock says.
"We are thrilled to announce the partnership with GEK TERNA Group and further expand Hard Rock's reach across the globe in the great City of Athens," said Jim Allen, Hard Rock International Chairman.
"This development will bring over 3,000 jobs to the people of Greece and we look forward to bring our unique brand of entertainment to provide an unparalleled experience for guests of all ages," Allen said.
Design of Hard Rock casino draws inspiration from Greece
Hard Rock says that the design of the project draws its inspiration from basic Greek elements, such as the sea, the arts, and ancient mythology. These are all combined with the modern requirements of architecture and the inescapable need for harmonious integration of the project in its environment and location.
Open spaces, gardens, and water features are key elements of the project's design, with total green open space covering close to 205,000 m2.
The central Tower draws its inspiration from nautical references, incorporating in its design the waves, sails, and lighthouse.
Built on three levels, the Tower has three different orientations corresponding to the reference points located within the imaginary triangle—comprised of the Acropolis, sea, and Mount Hymettus—that is formed around the project.
Its iconic shape will serve as a symbol of the region and reference the importance of the connection between land, sea, and sky, Hard Rock says.
Development at Hellinikon will create thousands of jobs in Athens and Greece
"This development will create a premium tourism spot, expected to offer employment to thousands of people, yield significant revenues to the public sector, and add value to Greece's brand," said George Peristeris, Chairman and CEO of GEK TERNA Group.
"Along with Hard Rock we are realizing a private investment of over 1 billion euros, reaffirming our trust in Greece's prospects and potential," he added.
The development brings a vibrant casino comprised of 200 tables, 2,000 gaming machines, and a tower that consists of more than 1,000 guest rooms and suites overlooking the waterfront or views across Athens to the Parthenon.
Additionally, the project includes the highest outdoor rooftop terrace in Athens with a rooftop pool deck, bars, and Rock® Spa and Body Rock Fitness.
Construction of the project is expected to begin within the first months of 2023 and last about 3 years. Hard Rock Hotel & Casino Athens is expected to be ready to welcome the public in 2026.
See all the latest news from Greece and the world at Greekreporter.com. Contact our newsroom to report an update or send your story, photos and videos. Follow GR on Google News and subscribe here to our daily email!