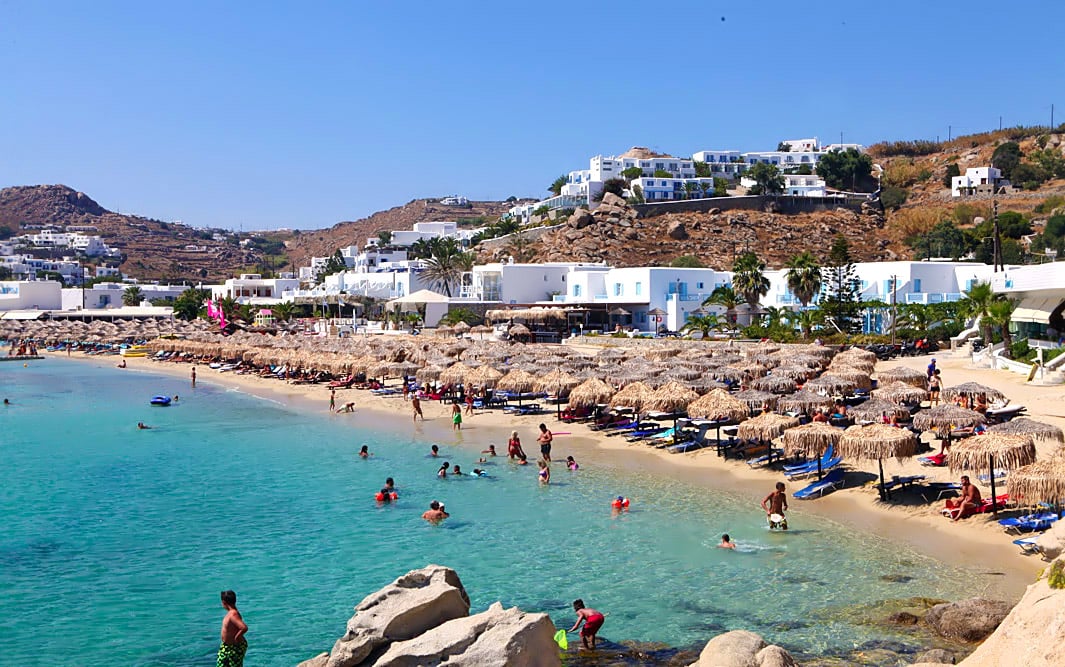 The recent proposed legislation on the use of Greece's shoreline which was brought before the Greek Parliament contained an article – Number 34 – which stipulates that illegal structures for business purposes can be legalized with an appropriate fine.
The proposed amendment caused fierce reaction throughout Greece, mostly from ecology groups, on the grounds of environmental protection.
However, the legislation brought to the surface the thorny issue of the ongoing exploitation of Greece's coastal areas by private businesses. On the vast majority of beaches in Attica and tourist destinations throughout Greece, one has to pay dearly to enjoy what the businesses are enjoying for free.
The Greek Constitution states clearly that the country's shoreline is considered a public good, and Greek citizens have the right to access and use beaches any time they please.  However, no single person or company has the right to exploit a public beach or block access to any Greek citizen.
However, since the 1980s, shoreline use laws have been blatantly violated by both individuals and companies who use seaside areas solely for their own profit. It has come to the point that through the years, shoreline law violations are considered by most Greeks as actually legal.
For instance, the law says that if a hotel is built right on the beach and there is no outside access to the beach, a citizen who wants to use it has the right to walk through the hotel to reach the beach.
Although the Constitution says that Greek beaches are public property, the laws regarding coastal use are so complicated that deceitful individuals have found loopholes to circumvent them and "privatize" public beaches for their benefit alone.
Since local authorities, including municipalities, have jurisdiction over the seaside areas which belong to them, they are responsible for issuing permits to businesses on the beach. But from the moment one obtains a permit to operate such businesses, the law can be bent at will. Often, this is based on the general public's ignorance of the law and their Constitutional rights to enjoy the water.
In many cases, seaside businesses bribe the authorities to obtain their license to operate. After that, they bribe inspectors or the police in order to stay in business. This happens so often that it is considered standard procedure for most.

Public beaches in Greece arbitrarily "privatized" for profit
Since the 1980s, almost all popular beaches in Greece have been encroached upon by development. Most are leased by the local municipality with a license for tourism business. And then the violations begin, to the point that a whole beachside area becomes a private business.
Some owners have even been known to use security guards to block access to those who are aware of the law and their Constitutional rights.
Greek law further stipulates that sunbeds and umbrellas are not allowed to cover more than 50 percent of any beach. There must be corridors at least one meter (3.4 feet) wide for beachgoers to be able to pass through. Sunbeds must also be placed at a distance of five meters (seventeen feet) away from the water.
More than one sunbed and umbrella business can operate on a beach. However, there must be a distance of 100 meters between one sunbed vendor and the next. They are also only allowed to cover half of any one beach.
One is not allowed to operate a seaside restaurant on a sandy beach, no matter how far from the water it is built. Beach canteens are not allowed to exceed 15 square meters (738 feet) in size, and they need a special license to operate.
Canteens are not allowed to have loudspeakers for music, and they must be 100 meters (300 feet) away from other beachfront businesses.
Placing any kind of barriers on the sand is illegal, as beaches are considered a public good. Cementing off a beach is also illegal.
Loud sound systems operating in any public place is illegal, and music must not be louder than 50 decibels. Lighting needs to be low and only necessary for safety reasons.
Free camping on a public beach is absolutely prohibited throughout Greece. Topless sunbathing is officially against the law in the country as well, although many women do it. However, there are designated nudist beaches where it is allowed for someone to go topless or naked.
Building a private home on a beach is also not allowed anywhere in Greece. If the private home is already built, the owner is obligated to allow people to pass safely through their property. Zoning authorities are legally liable if they don't report illegal beachside houses.
But maddeningly, one single visit to a popular beach is proof that none of the above conditions are being obeyed. Almost all the nice beaches in Attica are leased, blocked and even charge steep entrance fees.
Once inside, in most cases, there will be an obnoxious sound system blaring popular tunes at 100 decibels.
If a beach is not blocked off, visitors will have to pay for sunbeds and umbrellas, because almost 100 percent of the beach is covered by them — and the ones in the first row are literally on the water's edge.
See all the latest news from Greece and the world at Greekreporter.com. Contact our newsroom to report an update or send your story, photos and videos. Follow GR on Google News and subscribe here to our daily email!