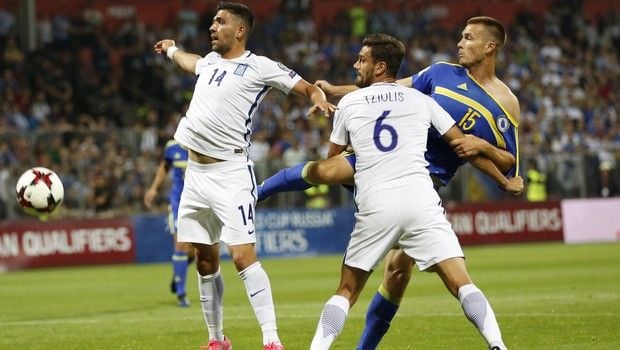 Greece's Friday night scoreless draw in Bosnia secured a valuable point and keeps the team in second place contention for the 2018 World Cup qualifiers.
Greece remains one point ahead of Bosnia in the group, being second to Belgium. Thanks to goalkeeper Orestis Karnezis and some crucial saves, the national team managed to leave the Zenica stadium in a scoreless draw.
The Greeks came close to winning the game, but midfielder Petros Mantalos missed a great chance to score in the 82nd minute, sending the ball over the bar.
Greece's coach Michael Skibbe was predictably defense-minded in Zenica, as he was in Belgium in March, when the national team managed another draw, 1-1 this time. However, the Greek offense was quite poor with striker Costas Mitroglou hardly getting any assists to score.
After the game, the Bosnian coach assistant attacked Greek player Yiannis Yianniotas and punched him, breaking his front tooth.
After Friday's games, in the Group H rankings Belgium is first with 16 points, Greece second with 12 and Bosnia comes third with 11 points.
 
See all the latest news from Greece and the world at Greekreporter.com. Contact our newsroom to report an update or send your story, photos and videos. Follow GR on Google News and subscribe here to our daily email!