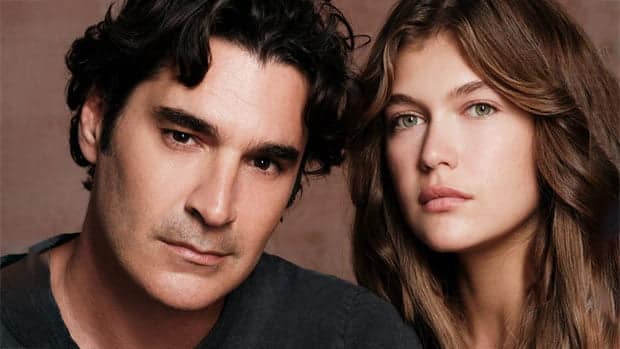 "Maestro in Blue", the acclaimed Greek television series, is now streaming on Netflix. It is the first Greek series to be picked up by the streaming service, and was created for Mega TV by Christoforos Papakaliatis, who also stars in the series.
It is the first-ever exclusive worldwide distribution deal for a Greek scripted television series on the streaming platform Netflix and will launch worldwide on Friday, March 17th, 2023.
Papakaliatis has recently stated: "I hold Maestro very close to my heart and I feel deeply honored and happy that this story will travel around the world through Netflix. I'm looking forward to this journey."
Story of Netflix's Maestro
"Maestro in Blue" is produced by MEGA TV, created by Christoforos Papakaliatis, and stars: Christoforos Papakaliatis, Haris Alexiou, Maria Kavoyianni, Fanis Mouratidis, Marisa Triantafyllidou, Giannis Tsortekis, Antinoos Albanis, Stefania Goulioti, Klelia Andriolatou, Orestis Halkias and Giorgos Benos.
The television series is set in Greece on the island of Paxos. The island actually has an interesting history, which includes naval battles, pirates, and a succession of foreign rulers. Even though it is smaller than, and not as well-known as, Corfu and Lefkada, which are also in the Ionian Sea, Paxos is very beautiful.
It follows a musician named Orestis, played by Papakaliatis, who travels to the small Greek island during the COVID-19 pandemic in order to set up a music festival from scratch.
Confronted with the small society of the island, he finds himself involved in a passionate love story that acts as a catalyst for the manifestation of all the social problems that plague an entire group of people. The characters, being connected to one another, are therefore complicit in the developments.
Speaking about the series in September 2022, Papakaliatis said, "I am very proud of this project because I think that artistically it is a unique moment, not only for me, but for everyone who was involved."
"I am extremely lucky, because thanks to these actors, the story of 'Maestro' acquired meaning and substance. To me that matters. To be able to tell your story in the best possible way and for it to make sense," Papakaliatis further added.
"The photography, the music, the editing, the cameras and all the collaborators, have all given their best in order to make a project in our language, which will also be able to stand worldwide," he said.
In a recent interview with Alpha TV, he stated that the filming of the second series of Maestro will begin on April 1 at the latest and will take place in Athens and Paxos.
He also revealed that there will be some new faces in the cast. He said that the second series will be the last, and that it will be screened first on Greek TV and later on Netflix.
See all the latest news from Greece and the world at Greekreporter.com. Contact our newsroom to report an update or send your story, photos and videos. Follow GR on Google News and subscribe here to our daily email!