While planning your first trip to Greece, you may be—no, you will be—overwhelmed with the many stunning options.
Let's take a look and see what places in Greece you must check out on your first visit to get the best variety of what this diverse country has to offer.
Athens: Greece's historical capital city
When in Greece for your first trip, you must see the Acropolis and visit the Acropolis Museum. It is an amazing and unforgettable experience.
There are also many other things that you might want to check out while in Athens during your first trip to Greece.
You can spend the day roaming the ancient streets of Monastiraki or divert from the main tourist attractions and check out the town of Anafiotika, nestled under the Acropolis, which transports you to a Mediterranean island!
Alternatively, you can take a bus to visit the nearby ruins of the Temple of Poseidon at Sounio.
In addition to going to the traditional beaches around Athens, you can always take a taxi or bus to check out the unique cave lake of Lake of Vouliagmeni, located right in the suburb of Vouliagmeni.
The island of Hydra is the perfect spot for your first trip to Greece
One island that is not only unique but also conveniently located close to Athens is the stunning island of Hydra.
Hydra is an enchanting Greek island known for its restaurants and shops lining the main port. Additionally, it's a reminder of the turn of the last century, as there are no cars allowed on the island.
The charm of the winding narrow pathways that lace the city are one way to experience Hydra.
Looking for something different you can try on your vacation? For those looking for an alternative view of the island, you can see the island on horseback!
Check out Harriet's Hydra Horses, where tours are offered for one to five people; however, if pre-arranged, six to one hundred people are welcomed to a group tour.
Rhodes is known for its medieval town
Rhodes is a breathtaking island with fortifications of the town of Rhodes winding around the medieval town. It has quaint little squares and tavernas throughout its villages.
Why Rhodes? Yes, this island is a big tourist destination, but for all the right reasons!
Rhodes, the largest Greek island of the Dodecanese archipelago, has lovely beaches, as well as a wealth of ancient ruins and beautiful historical buildings to explore.
You can spend your time seeing the ancient ruins such as the Acropolis of Lindos, which is your reward after completing a climb of the steep footpath reaching 116 meters (380 feet) above Lindos to reach this beautifully preserved Acropolis.
If you want something different to do, check out Petaloudes, the Valley of the Butterflies!
The Greek Island of Crete on your first trip to Greece
Crete, the second largest Greek island, is far removed from the mainland, so do plan to spend some time on a boat making the journey to the stunning destination.
Crete is a great place to visit if you are able to fit it into your itinerary during your first trip to Greece.
Every year, people visiting Greece come to Crete to visit the ruins of the ancient city of Knossos to experience what remains from the capital of Minoan civilization.
As the second-largest island in Greece, Crete has a coastline of 1,046 km, or 650 miles, which makes for some extraordinary beaches.
With crystal-clear waters and colorful sands, Crete's beaches are unforgettable.
The unique island of Corfu
The Greek island of Corfu is full of breathtaking views, enchanting towns, museums, and exciting activities.
Don't get caught up in the typical tour of Corfu while you're visiting this island brimming with hidden treasures for you to discover.
Corfu has many Italian influences because it was for a long time ruled by Venice, which you will notice right away once you visit this island because of its Italian-inspired architecture.
Besides seeing Kerkyra's Old Town, be sure to try out some of the favorite local dishes unique to Corfu called "sofrito."
Foodies will go wild for the island's classic combination of beef cooked in a local, white wine sauce with garlic and fresh parsley!
While on Corfu, don't miss out on a unique opportunity to visit Palea Perithia, the Venetian-era village hidden in the north slope of island's Mount Pandokrator to be transported back in time.
The village, which was abandoned after the 1960's, has undergone many restoration projects since then, including the restoration of the 14th-century church of Agios Iakovos O Persis which you see as you approach the village.
Santorini: Iconic Greek Island Destination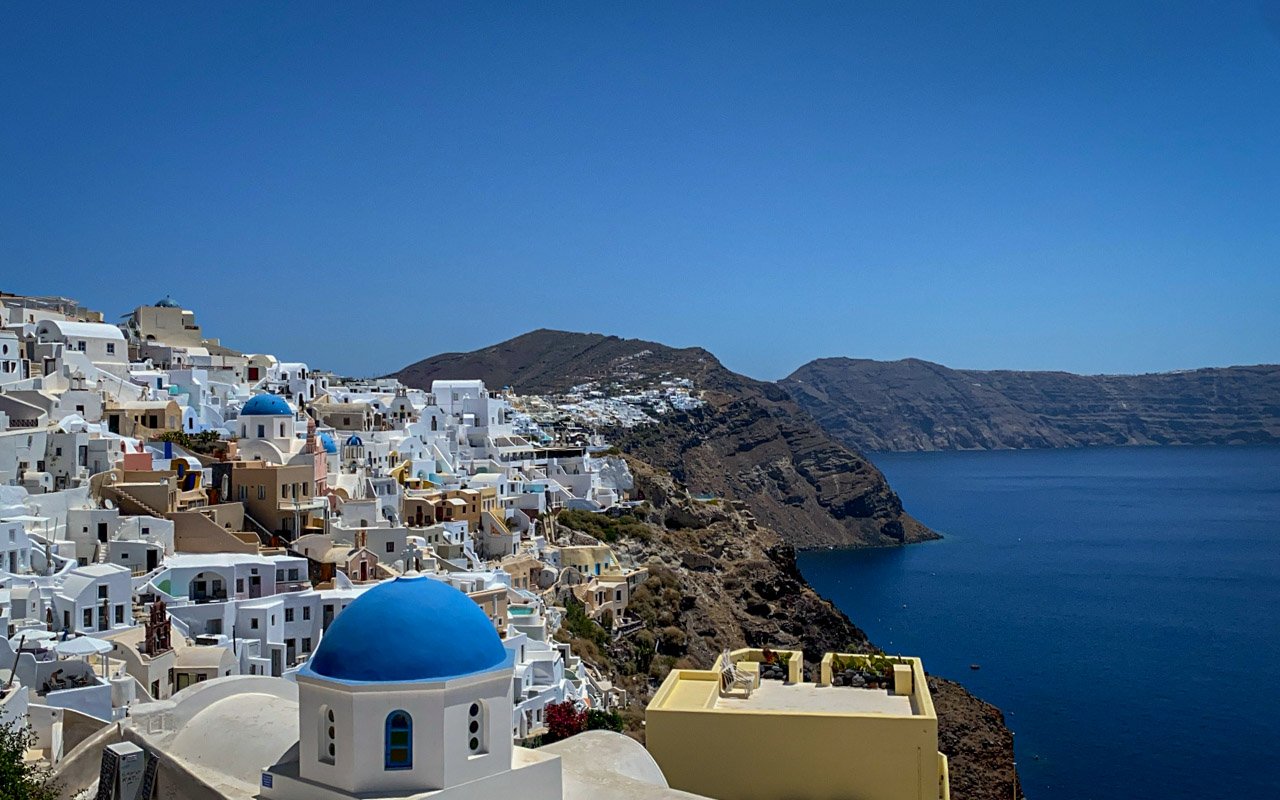 With its iconic volcanic cliffs and white-washed buildings, Santorini is a great way to get to know Greece.
The island has everything from vineyards to tours on the volcano caldera—not to mention the volcanic sand beaches!
Want to get to see the island from a different perspective? Why not rent a scooter while there—if you feel confident in your scooter-operating skills, that is, since the roads are steep and narrow.
There are plenty of rental companies that can provide you with a scooter from different towns on the island, as well as many located in Karterados, which is only a kilometer from Fira.
You will probably want to check out the commonly visited tourist attractions such as the beaches of Kamari and Persia, and for a treat, check out experiencing the true culture and uniqueness of the island by staying in places such as Fira, Imerovigli or Oia.
These towns, which are built into the cliffs of the island, are treasures in and of themselves and are full of little cafes, shops and places of interest. Exploring this island by bike or scooter is amazing and the possibilities are limitless!
The stunning landscapes of Milos
You may have never heard of this island, but once you see the photos, you will definitely want to visit, and you will understand why Milos is one place in Greece you should see!
The island of Milos is unique and memorable and you'll get some fantastic photos to wow your friends and family with when you get home, especially from the moonscape beaches!
This island has a long history. After all, this is the place where the famous Greek statue known to Greeks as Aphrodite of Milos, or Venus de Milo, (which now resides at the Louvre) was discovered by a farmer on the island two centuries ago.
See all the latest news from Greece and the world at Greekreporter.com. Contact our newsroom to report an update or send your story, photos and videos. Follow GR on Google News and subscribe here to our daily email!