A total of 85 tombs with death certificates written in Greek letters were unearthed in the southern Egyptian province of Sohag, the Ministry of Tourism and Antiquities said Wednesday.
The tombs date back to the period from the Old Kingdom of Egypt some 4,500 years ago until the Ptolemaic dynasty spanning from 305 BC to 30 BC.
The find was made by the Egyptian archeological mission in the Gabal El Haridi region, located about 350 km south of the capital Cairo.
30 death certificates in tombs written in old Greek letters
Beside the mummies, archaeologists found 30 death certificates with the dead person's name, job and age, and their parents' names, written in old Greek letters and ancient Egyptian hieroglyphics, according to a ministry statement.
Some tombs were embedded in the mountain, and some have one or more wells with corridors leading to burial rooms, the statement said.
The mission also unearthed a mudbrick-made tower house dating back to the era of King Ptolemy III, the third pharaoh of the Ptolemaic dynasty ruling from 246 BC to 222 BC.
The tower house was built to monitor the borders, levy taxes, and secure the navigation traffic on the Nile River, the statement explained.
The discoveries also include remains of a Ptolemaic-era temple built to worship the goddess Isis, measuring 33 meters long and 14 meters wide.
Temple of the ancient Greek god Zeus was unearthed in Sinai, Egypt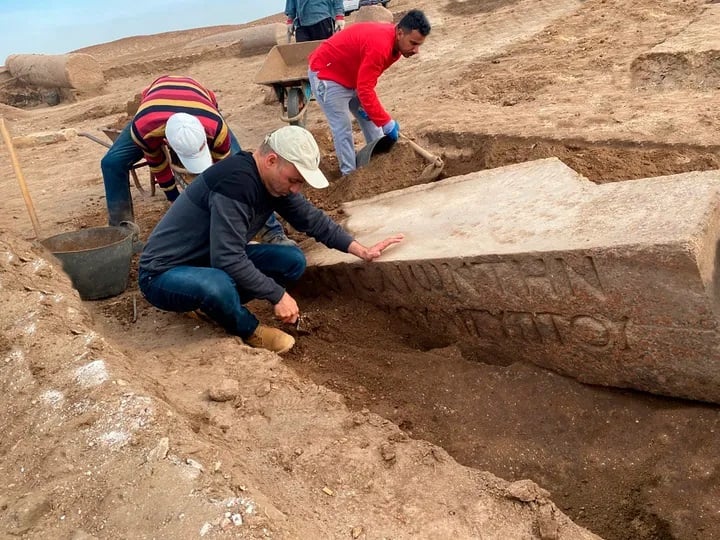 Last week, archaeologists unearthed the ruins of a temple for the ancient Greek god Zeus in the Sinai Peninsula, authorities in Egypt said.
In a statement, the Tourism and Antiquities Ministry said the temple ruins were found in the Tell el-Farma archaeological site in northwestern Sinai.
Tell el-Farma, also known by its ancient name Pelusium, dates back to the late Pharaonic period and was also used during Greco-Roman and Byzantine times. There are remains dating to the Christian and early Islamic periods, as well.
Pelusium, or Pelousion in Greek, was located on the easternmost mouth of the Nile River. Almost four miles long, the site is enveloped by soft, salt-covered mud and wetlands, the remains of two branches of the Nile that once surrounded the city.
The ancient name of the city, from the Greek pelos, meaning mud or silt, reflects its location.
See all the latest news from Greece and the world at Greekreporter.com. Contact our newsroom to report an update or send your story, photos and videos. Follow GR on Google News and subscribe here to our daily email!