The National Observatory of Athens meteorological service said that there is a possibility that a relatively unusual phenomenon, a Mediterranean cyclone or 'Medicane', will occur in the south Ionian Sea this Friday.
Cyclones of this type occur once or twice a year in the Mediterranean.
A region of low pressure in the south Ionian sea could create a tropical-type system, giving rise to extremely high hurricane-force winds of 12 Beaufort, extremely heavy rain and the formation of an 'eye'.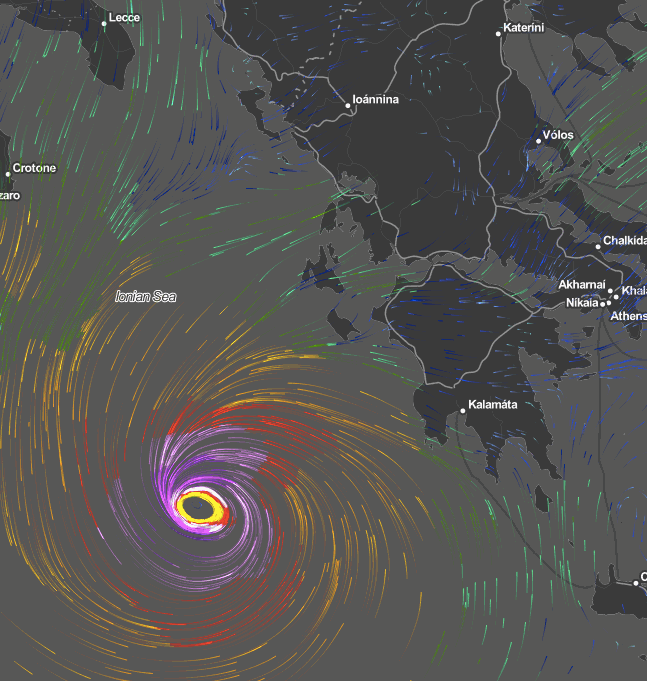 Success in forecasting Medicanes and especially the path they are likely to take is small but current models indicate that its strength will be significantly depleted when it reaches mainland Greece at the weekend.
Greece continues to be in the grip of high winds and low temperatures, with the first snowfall of the season falling in the mountains of northern and central Greece at altitudes above 1,800 metres.
Strong winds that disrupt sea traffic are expected to continue on Thursday also, along with rain that will fall in the eastern and southern mainland and islands of the south Aegean.
Source: AMNA
See all the latest news from Greece and the world at Greekreporter.com. Contact our newsroom to report an update or send your story, photos and videos. Follow GR on Google News and subscribe here to our daily email!