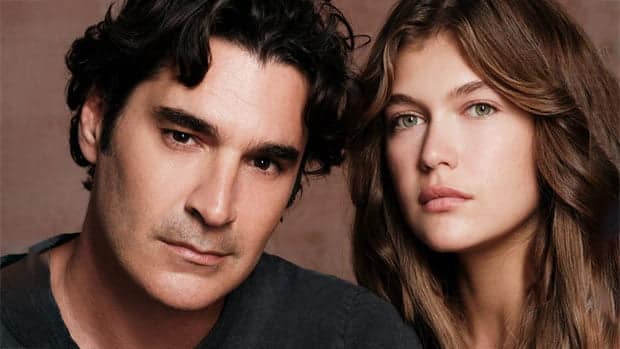 "Maestro", the highly successful Greek series of director and actor Christoforos Papakaliatis that is currently airing on Mega channel, is coming to Netflix. The popular streaming platform recently bought the worldwide rights, as announced on Tuesday.
The drama series, which Papakaliaatis wrote, directed and starred in, will air in Greece and Cyprus on December 19, 2022 . It will then premiere for the first time to audiences worldwide in early 2023.
Papakaliatis stated: "I hold Maestro very close to my heart and I feel deeply honoured and happy that this story will travel around the world through Netflix. I'm looking forward to this journey."
Maestro: a story of passion and conflict
In the nine episodes of "Maestro", Christoforos Papakaliatis narrates a story of passion and conflict. A cast of talented actors embody multidimensional heroes, through whom the creator attempts to open discussions on societal matters.
In the story, Orestes travels to a small Greek island during the COVID-19 pandemic in order to set up, from scratch, a music festival. Confronted with the small society of the island, he will find himself involved in a passionate love story that acts as the catalyst for the manifestation of all the social problems that plague an entire group of people. The characters, being connected to one another, are therefore complicit in what comes next.
Speaking about the series in September, Papakaliatis said: "I am very proud of this project, because I think that artistically it is a unique moment, not only for me, but for everyone who was involved. "
"I am extremely lucky, because thanks to these actors, the story of 'Maestro' acquired meaning and substance. To me that matters. To be able to tell your story in the best possible way and for it to make sense." Papakaliatis further added.
"The photography, the music, the editing, the cameras and all the collaborators, have all given their best in order to make a project in our language, which will also be able to stand worldwide."
Maestro is produced by MEGA TV and stars Christoforos Papakaliatis,
Maria Kavoyianni, Marisha Triantafyllidou, Fanis Mouratidis, Antinoos Albanis, Giannis Tsortekis, Kora Karvouni, and Haris Alexiou.
Papakaliatis: actor, writer, director
Christoforos Papakaliatis is a Greek actor, film director, and screenwriter whose work has been widely praised by Greek critics.
Αt sixteen, he started playing numerous roles on TV shows produced by MEGA channel. By 23, Papakaliatis commenced with writing his own scripts. His first "Our Life Is A Path" (Greek: Η ζωή μας μια βόλτα) aired on MEGA channel and was lauded by both critics and the public. This gave him the green light for more projects.
The following season, the multi-talented film figure wrote and starred in the TV series "Take Care Of Me" (Greek: Να με προσεχείς). Afterwards, he did it again for the acclaimed TV movie "Three Wishes".
His TV drama "Close Your Eyes "(Greek: Κλείσε τα μάτια) was one of the highest rated TV series in Greece. He was wrote and starred in it, as well as directed most of the second and third season episodes.
The series caused a controversy in Greece, however,  following a kiss between two men. It was the first time two male characters kissed on air, which resulted in a fine by the Greek National Council for Radio and Television. Yet the council later withdrew it.
In 2006 he reprised all three roles once more in the drama-thriller series "Two Days Only"(Greek: Δυο μέρες μόνο). Then, in 2009 he did so once more for the TV series "4" (Greek: Τέσσερις). That was year as well that he was accepted as a member of the International Academy of Television Arts and Sciences (EMMY International).
Highly acclaimed film career
Papakaliatis's film career has also been quite successful. In 2012, he starred next to Catherine Deneuve and Sebastian Koch in the feature film "God Loves Caviar" directed by Yannis Smaragdis. His first feature production "What If…."(Greek: Αν) was released in 2012, in which he took on the leading role of Demetris.
The movie was a critical success in Greece for the 2012-2013 season, remaining in theaters for more than 4 months and grossing $4.5 million at the box office. It also screened at numerous international festivals. In 2013 and qualified for a Golden Globe nomination  the "Best Foreign Movie" category, although never made the finals.
In 2015, Papakaliatis's second feature film "Worlds Apart", starring Academy Award winner J.K. Simmons, had its official theatrical release in Greece. The romance, set in Athens, focused on the relationship between foreigners and Greeks. The narrative played out against the tense societal backdrop of immigration and the devastating economic crisis that Greece faced at that moment.
The movie made $5 million at the box office and was the second highest grossing film in the 2010s in Greece. More notably, it surpassed the performance of Hollywood blockbusters like "Star Wars: The Force Awakens" and James Bond "Skyfall".
"Worlds Apart" was internationally distributed and released in 25 countries. In January 2017, it had its theatrical opening in the US by Cinema Libre Studio, receiving positive reviews. It was shown the same year in Switzerland and Austria as well through Trigon Films.
See all the latest news from Greece and the world at Greekreporter.com. Contact our newsroom to report an update or send your story, photos and videos. Follow GR on Google News and subscribe here to our daily email!