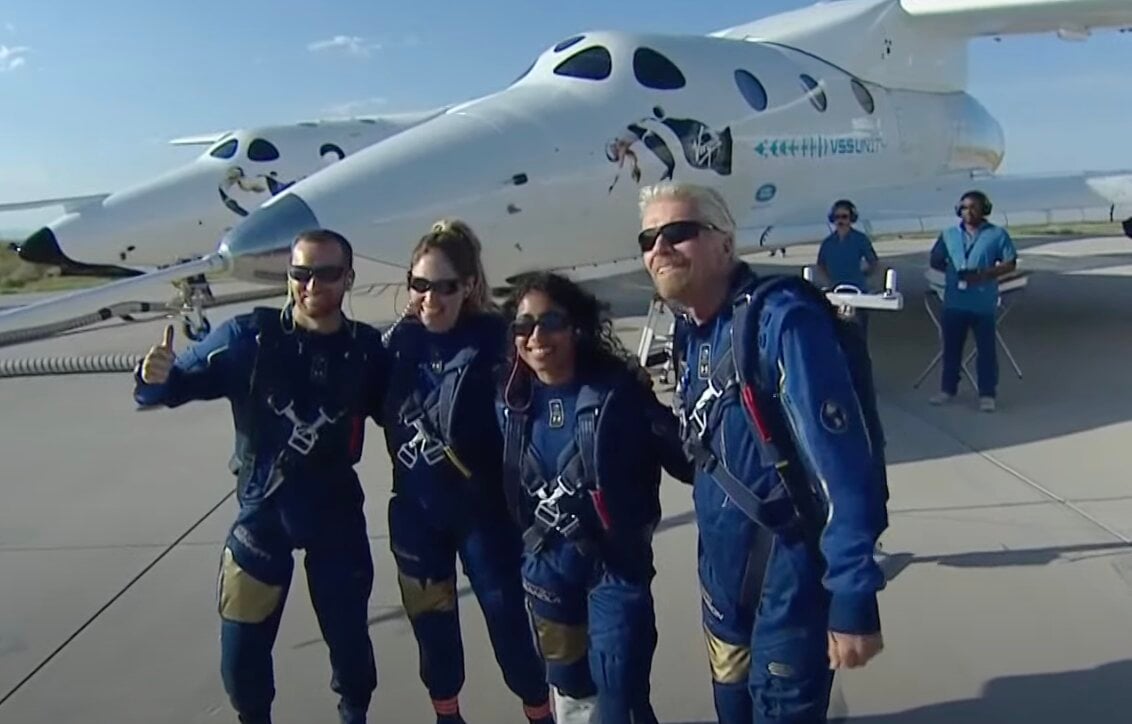 Sir Richard Branson, the founder of Virgin Group, will be the first billionaire in space as Virgin Galactic launches the VSS Unity beyond the Earth's atmosphere on Sunday.
The spacecraft began its journey in New Mexico, USA before going up into space with six people on board, one of them being the founder of Virgin Galactic, Branson.
Richard Branson takes a trip to outer space
The 70-year-old entrepreneur was shot into the stratosphere in his own company's spaceplane model named a SpaceShipTwo. The specific aircraft has been dubbed the VSS Unity, and Sunday marks its maiden flight.
The spacecraft was first be lifted to about 15,240 meters (50,000 feet) by an airplane named the WhiteKnightTwo which was designed specifically for this purpose. The airplane has been named Eve, after Branson's mother. The Unity then detached from the mother ship in order to launch itself beyond the Earth's atmosphere and into space.
Branson is now the first billionaire in space, being able to enjoy the once-in-a-lifetime view of Earth from so high above it. Within one to two hours, the VSS Unity should return to its home planet.

The historic event is being live streamed on YouTube, and is shown below.
Branson founded Virgin Galactic in order to be able to recreate the experience he had Sunday in space for those others who can afford it. Virgin hopes to begin selling to space tourists next year — and people have already bought in to this plan.
700 customers have bought their ticket aboard the VSS Unity or similar spacecrafts, and all have spent upwards of €168,392 ($200,000) for it.
Branson tweeted earlier today about this dimension of his business, saying, "My mission statement is to turn the dream of space travel into a reality – for my grandchildren, for your grandchildren, for everyone."
Billionaire Space Race
Branson's trip into space seems to have been fairly spontaneous, as he announced he would be launching the VSS Unity with himself aboard on July 1.
Most seem to believe this was in a bid to beat fellow billionaire Jeff Bezos to the punch, as Bezos is also planning a trip into the stratosphere. Branson has now been in space nine days before Bezos is to see Earth from above on July 20.
The Amazon.com founder has started a company named Blue Origin for his aerospace ventures, and the company will send its New Shepard rocket from the ground, with its capsule soaring to about 106 km (66 miles). This is different to the technique that Virgin Galactic used to launch the VSS Unity, which used an aircraft to elevate the rocket before it took off into space.
Bezos plans to blast into space from West Texas on the 52nd anniversary of the Apollo 11 moon landing.
Blue Origin announced earlier in June that Bezos would fly alongside his brother, Mark Bezos. Later it said they would be joined by Wally Funk — an 82-year-old woman who underwent similar training to NASA's Mercury program, but like all American women at the time, was denied the opportunity to go to space — and the winner of an auction who forked over $28 million for the opportunity.
"Ever since I was five years old, I've dreamed of traveling to space. On July 20th, I will take that journey with my brother. The greatest adventure, with my best friend," Bezos wrote on Instagram recently.
He added: "To see the earth from space — it changes you."
See all the latest news from Greece and the world at Greekreporter.com. Contact our newsroom to report an update or send your story, photos and videos. Follow GR on Google News and subscribe here to our daily email!