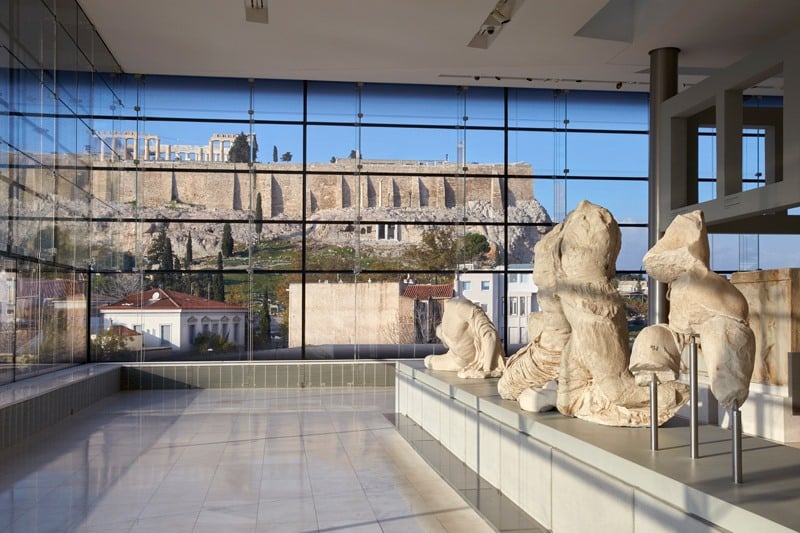 The Hellenic-American Chamber of Commerce announced they will sponsor the first online virtual tour of the Acropolis Museum, titled "Φώς | Fos," or "Light." The tour, which will be conducted by Professor Emeritus and noted archaeologist Dimitrios Pandermalis, will take place on Saturday, April 10 at 11:00 a.m. EST.
Preceding this first-of-its-kind, historic event, there will be a documentary, hosted by Chryssa Avrami, featuring distinguished Greeks and Philhellenes from around the world including H.E. Archbishop Elpidophoros of America; and Helene Glykatzi-Ahrweiler, Academic Byzantinologist.
Greek luminaries to honor Acropolis Museum Virtual Tour
Albert Bourla, the Greek-born CEO of Pfizer, will also take part, along with Nikos Aliagas, Journalist, Host, and Photographer; John and Elena Coumantaros; George Dalaras, Musician; and Jim Gianopulos, the CEO of Paramount Pictures.
Robert McCabe, the American Photographer who photographed the Acropolis in the 1950s, will also take part in the event, along with Fashion designer Mary Katrantzou; Clay Maitland, the Managing Partner International Registries; and Olympic gold medalist Yiannis Melissanidis.
Greece's iconic composer Mikis Theodorakis, along with composers Evanthia Reboutsika and Stavros Xarhakos, will also lend their efforts to the presentation, along with Phedon Papamichael, an award-winning cinematographer; Joseph Sifakis, a computer scientist and 2007 Turing Award recipient; and Marianna Vardinogiannis, a UNESCO Goodwill Ambassador who represents the Foundation for the Child & Family.
Parthenon Sculptures, excavated city of Athens part of Museum
These HACC events — whether digital or in-person — would not be possible without the generosity and commitment of the Chamber's members and friends as well as other supporters in the Greek community.
This unique event will enable viewers to see the treasures of the Acropolis Museum up close and personal, just as if they were there in person.
Not only does the Museum house the original, priceless Parthenon Sculptures which were on the frieze of the building atop the nearby Acropolis, but visitors — and viewers — can also see an ancient excavated Athens cityscape below the building's glass floors.
The Hellenic American Chamber of Commerce was created 74 years ago to promote and strengthen economic and cultural ties between the United States and Greece.
This past year the HACC has been very active, with ten virtual events — including the first virtual visit to the Museum of Cycladic Art in Greece, promoting Greek history and culture to viewers from 22 different countries — which, in turn, supports Greece's vital tourism and travel industries.
You can rsvp for this virtual event and donate to the Hellenic American Chamber of Commerce's efforts via their website.
See all the latest news from Greece and the world at Greekreporter.com. Contact our newsroom to report an update or send your story, photos and videos. Follow GR on Google News and subscribe here to our daily email!