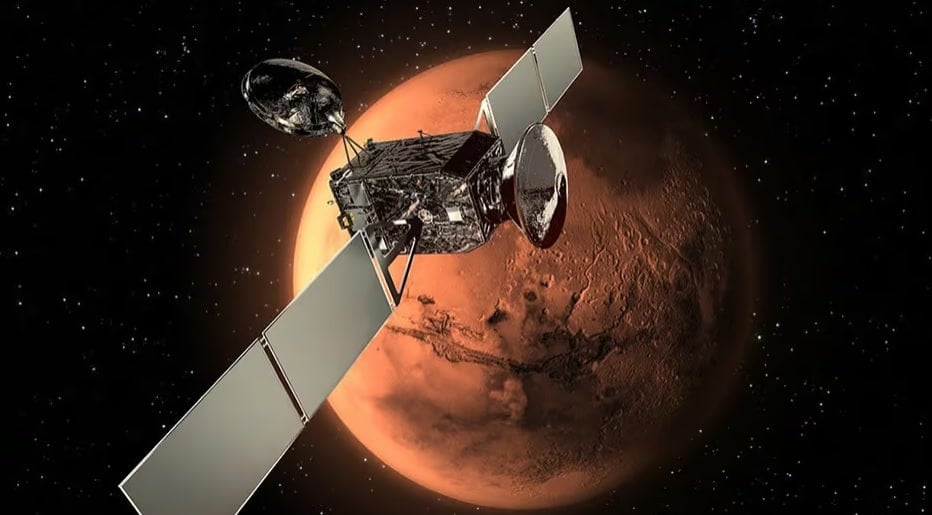 Earth is set to receive its first "alien" message from Mars on Wednesday in a project called "A Sign in Space".
The idea is to prepare scientists for the "profoundly transformational experience for all humankind' if otherworldly beings actually contact us, according to the researchers from the Search for Extraterrestrial Intelligence (SETI) Institute.
The team is keeping key details about the stunt secret – including type of signal and what it includes. However, a radio signal takes about five to 20 minutes to reach Mars from Earth.
The tight lid is because the encoded transmission will be shared with the public, allowing them to help with the decoding.
The European Space Agency's Mars orbiter will transmit the encoded message at 3 pm ET, with receipt on Earth 16 minutes later – after traveling 180 million miles through space.
Receiving a message from aliens would be a "transformational experience"
"Throughout history, humanity has searched for meaning in powerful and transformative phenomena," said Daniela de Paulis, the artist behind the project.
"Receiving a message from an extraterrestrial civilization would be a profoundly transformational experience for all humankind."
"A Sign in Space offers the unprecedented opportunity to tangibly rehearse and prepare for this scenario through global collaboration, fostering an open-ended search for meaning across all cultures and disciplines," de Paulis adds.
The message (encoded by de Paulis and her team) will be transmitted by the ESA ExoMars Orbiter which circles Mars.
Just 16 minutes later it will arrive on Earth, being detected by radio telescopes such as the Allen Telescope Array, the Green Bank Telescope, and the Medicina Radio Astronomical Station.
You can watch a livestream of the event below.
Then it's time for the public to get involved and start to decode the alien message. There's been a Discord server set up for people to discuss any findings.
"This experiment is an opportunity for the world to learn how the SETI community, in all its diversity, would work together to receive, process, analyze, and understand the meaning of a potential extraterrestrial signal," said Allen Telescope Array Project Scientist Dr Wael Farah.
"More than astronomy, communicating with ET would require a breadth of knowledge. With 'A Sign in Space', we hope to make the initial steps towards bringing a community together to meet this challenge."
The SETI Institute is a not-for-profit research organization incorporated in 1984 whose mission is to explore, understand, and explain the origin and nature of life in the universe, and to use this knowledge to inspire and guide present and future generations, sharing knowledge with the public, the press, and the government.
Related: Aliens Could be Discovered Within 25 Years, Government Scientist Says
See all the latest news from Greece and the world at Greekreporter.com. Contact our newsroom to report an update or send your story, photos and videos. Follow GR on Google News and subscribe here to our daily email!