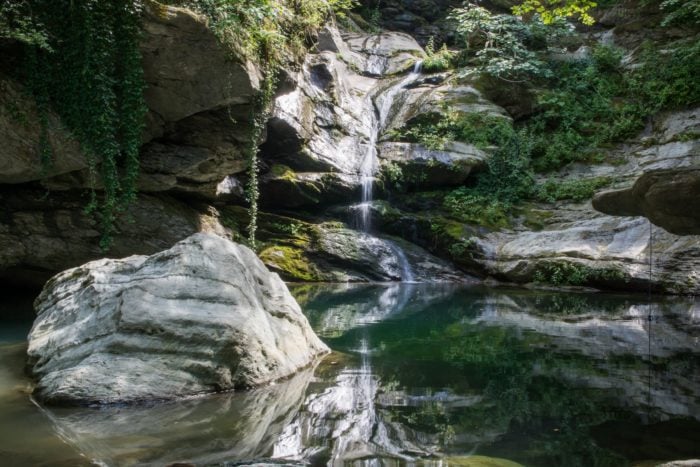 Calypso's Canyon is a hidden treasure on mainland Greece which could absolutely make you forget that you're in one of the hottest countries of Europe in the middle of summer.
When it comes to summer, the nation of Greece is synonymous with sandy beaches and relaxing moments under the clear blue skies on the islands, next to azure seas.
But have you ever considered visiting an alternative Greek destination, such as a gorge or a canyon in Greece's many mountain ranges?
Located near the town of Agia, in the central Greek region of Thessaly, Calypso's Canyon is definitely one of the most spectacular gorges in the entire country, and that is saying quite a bit considering the topography of this mountainous nation.
Calypso's Canyon is an untouched gem in Greece
Situated on the eastern slopes of Mount Kissavos, the mountain next to Greece's iconic Mount Olympus, Calypso has an extraordinary landscape offering many opportunities for adventure, or just relaxation, during the heat of the summer.
Steep cliffs of up to 60 meters (197 feet) in height, a plethora of waterfalls measuring up to 100 meters (328 feet) in height, thermal springs, and pristine, crystal-clear lakes all offer visitors an opportunity to walk, hike, climb or swim anytime they desire.
Surrounded by tall trees and massive, towering cliffs, this natural gem of Greece is a verdant paradise overlooking the Aegean Sea.
Visitors will be enthralled by its unique natural beauty and the adventurous will also have the opportunity to engage in mountain climbing and rappelling, if he or she has the necessary equipment.
Experienced climbers can rappel down a total of eight stunning waterfalls, while others can enjoy leisurely walks on a beautiful path which leads to the largest waterfall and to a natural lake.
The Kokkino Nero, or "Red Water," Spa is also located nearby, which offers therapies using the natural clay of the area.
Visitors who would like to spend more than just one day in the region can find accommodation in motels or hotels located in the nearby villages of Kokkino Nero and Koutsoupia.
One could also stay in the city of Larissa, which is the largest city in central Greece, less than a one-hour drive away from the canyon.
If you're ready for a thrilling adventure, or just a relaxing, shady respite from the blazing heat of a summer in Greece, Calypso's Canyon is waiting to welcome one and all!
See all the latest news from Greece and the world at Greekreporter.com. Contact our newsroom to report an update or send your story, photos and videos. Follow GR on Google News and subscribe here to our daily email!