A new project by the Massachusetts Institute of Technology (MIT) appears to be oversimplifying history, enlisting every single Greek philosopher who was born in Asia Minor as "born in Turkey" when Turkey did not even exist.
The "Pantheon" database project aspires to create a data-driven view of history by collecting, visualizing, and analyzing data on the biographies of historical characters.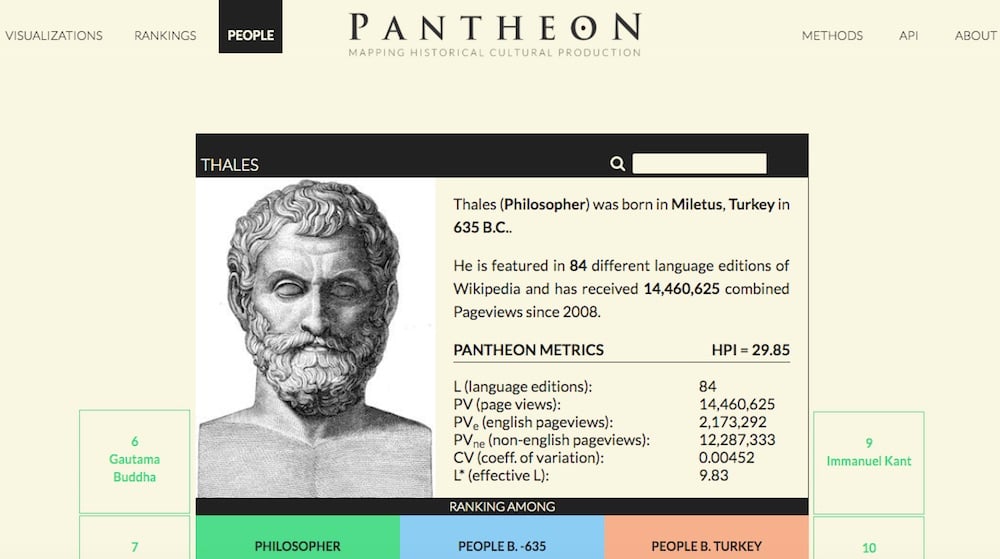 According to the database ancient Greek philosophers, such as Thales, Heraclitus, Diogenes, Anaxagoras and Xenophanes are listed under Turkey in the place of birth column.
MIT's Pantheon say that they attribute individuals by their country of birth–based on current political map.
"This means that Albert Einstein is an export of Germany (since he was born in Ulm) and that individuals born in the ancient city of Babylon were assigned to Iraq," they say.
Kemal Ataturk, the father of Modern Turkey, is listed under Greece, as he was born in Thessaloniki. The great Turkish poet Nazim Hikmet is also listed under Greece.
Critics say that the methodology in their approach distorts history as it ignores the national or cultural background of the historical figures. It could be misleading to anybody who might not know them.
It's no surprise that Turkey is above Greece on the list of the birth place of globally known philosophers. Six percent of whom were born in Greece and 6.7 percent in Turkey, according to Pantheon.
MIT never responded to Greek Reporter's request for comment about this inaccuracy.
You can access the MIT project PANTHEON here .
See all the latest news from Greece and the world at Greekreporter.com. Contact our newsroom to report an update or send your story, photos and videos. Follow GR on Google News and subscribe here to our daily email!