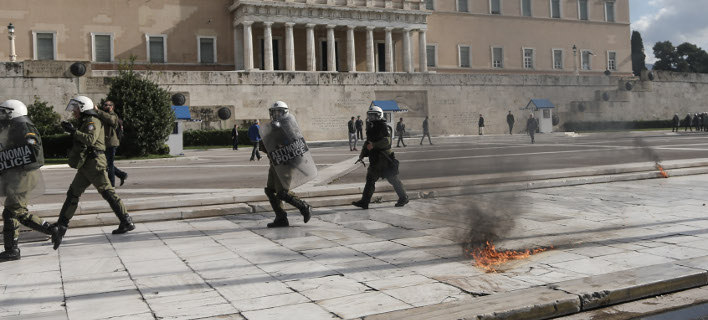 Shortly before 13:00 pm around 30 masked men attacked police officers with stones damaging shop windows in the center of Athens during demonstrations by the General Confederation of Workers of Greece (GCWG)  and the Civil Servants Supreme Administrative Council (CSSAC).
Reportedly, rioters threw rocks at the police outside the Ministry of Labour and set fire on a garbage can.They continued by firing two Molotov cocktails at the height of Dragatsaniou street and near the Unknown Soldier monument. According to the same reports, the police forces responded with stun flash grenades without using chemicals.

It should be noted that, the strike involved workers' unions from the private and public sectors. The central strike concentration was held and conducted smoothly from 11 am, at Klafthmonos Square.
See all the latest news from Greece and the world at Greekreporter.com. Contact our newsroom to report an update or send your story, photos and videos. Follow GR on Google News and subscribe here to our daily email!