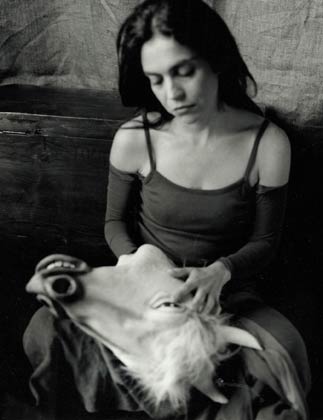 Today  ECM Records will release two new albums by marvelous Greek artists : Vassilis Tsabropoulos and Savina Yannatou.
Melos- Pianist/composer Vassilis Tsabropoulos and cellist Anja Lechner have made a gorgeous second recording following their 2004 runaway success Chants, Hymns and Dances.
Vassilis Tsabropoulos was born in Athens, and attended the conservatories of Athens, Paris and Salzburg, before completing his studies at the Juilliard School, where his teachers included Rudolf Serkin and Tatyana Nikolayeva. He is well-known in his homeland as an interpreter of the classical tradition, and has performed internationally as a soloist and under conductors including Vladimir Ashkenazy and Robert Janssens. He is also highly regarded as a jazz pianist, and was encouraged in his improvisational activities by Chick Corea.
– Songs of An Other – Savina Yannatou and Primavera en Salonico will support their third album on ECM with concerts in the USA:

September 18  Los Angeles, CA          American Asian Museum Plaza
September 19  Albuquerque                ¡Globaquerque!
September 20  Albuquerque                ¡Globaquerque!
September 21  Chicago, IL                  Chic World Music Fest – Old Town School of Folk Music
September 27  New York                     Symphony Space / World Music Institute
Born in Athens, Yannatou studied at the National Conservatory. While still a student she sang for Greek National Radio 3, under the direction of composer Manos Hadjidakis. In the ensuing years she explored a range of options from renaissance and baroque music to contemporary composition as well as Greek "entechno" art songs. In the early 90s she experimented with free improvisation, with both Greek and international collaborators and began to work also with a circle of Thessaloniki-based musicians who formed the band Primavera en Salonico for her recording of Sephardic folk songs from the region. The group is now in its 15th year, its progress informed by its members range of activities,
See all the latest news from Greece and the world at Greekreporter.com. Contact our newsroom to report an update or send your story, photos and videos. Follow GR on Google News and subscribe here to our daily email!